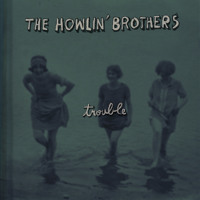 It seems like
The Howlin' Brothers
keep popping up on our radar; first with their debut CD
Howl
, then their
Sun Sessions
and now a new CD,
Trouble
. This album is due to be released April 29th, but I received an early link and have been enjoying their old style Americana. And point blank, I love this release. Why? Well I love blues and there's plenty of that in
Night and Day
. I love zydeco, and there's a little of that in
Monroe
and
Louisiana
. Gospel - you bet:
Yes I Am!
; Old time country roots -
World Spinning Round
. They round the bases, nailing each genre and delivering a powerful, powerful release. This is how music should be performed - at least in my world. Pair with home town
Ithaca Beer Company
. Cheers.