I've been listening to
Clay McClinton
for a few years now enjoying his rootsy-soul vocals that, at times, resemble his father
Delbert McClinton
- but mostly chart a separate path. And that trend continues with his upcoming release
Bitin' at the Bit
- incorporating a style or sound that McClinton calls Texas gumbo. And there's a lot going on in these songs - some rock, alt-country and country ballads, blues, and plenty of Tex Mex.
The CD was reproduced by esteemed producer-songwriter
Gary Nicholson
who also co-wrote most of the material with McClinton. The exceptions are his father's
Victim of Life's Circumstances
in which Delbert shares vocals, the oldie
Just Dropped In
- to See What Condition My Condition was In, and the bluegrass tune
Poison Love
. The backing band is worth the price of the CD in itself. McClinton and\or Nicholson have some friends as they acquired the services of guitarists
Kenny Vaughan
, Dan Dugmore and Colin Linden; percussionists Lynn Williams and Tom Hambridge; and bassist Steve Mackay — along with members of Clay's touring band Jon Sanchez on guitar and Ed Friedland on bass. Then there's the role played by
Joel Guzman
on the accordion and organ - adding that Tex-Mex flavor to many of the songs.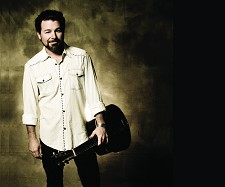 The first two tracks
Wildflowers
and
Stories We Can Tell
are two upbeat, catchy songs that seem to be tributes to his native Texas and to life as a traveling musician. The next two tracks
Beer Joint
and
Sound of a Small Town
reflect simpler times with the former finding a partner in the cleverly written
Hydrated
: "I'm no nutritionist, but there's corn in alcohol and plenty of water in beer". You may recognize
What a Little Bit of Love Can Do
which was featured in the film, "Crazy Heart" and sung by Jeff Bridges. And don't miss the last track,
Bound For Glory
- which McClinton delivers in a powerful and soulful manner. This may be my favorite track - particularly with Guzman's contributions.
Bitin' at the Bit is scheduled for the February 18th 2014 release. You cab probably grab an early copy at one of McClinton's performances - 'cause its worth getting now. Pair with some good Texas beer from
Live Oak Brewing Company
.